Tree House Tour De Cookie Last Minute Information
We have important event information for you! 
PACKET PICK-UP INFORMATION: 
   The Tree House Tour de Cookie Packet Pick-up will be at the Best Western Plus Rockville Hotel & Suites, 1251 West Montgomery Avenue, Rockville, MD 20850 on Wed., May 3 from 4pm-7pm, Thurs., May 4 from noon-7pm, and Fri., May 5 from 4pm-7pm.
   If you know someone who still wants to register, they can register online until Tuesday, May 2nd at noon or at packet pick-up, but there they must bring cash or a check. We cannot take credit cards at that time. To save time they may want to download our paper registration and fill it out ahead of time. Sorry, but t-shirts are no longer available to new registrants. You MAY pick up other riders' packets for them. That includes picking up packets for your teammates if you are on a team.
   If you purchased a Tree House Tour de Cookie water bottle when you registered online, you may pick it up at packet pick-up or the day of the event.
   The ride starts between 8 am and 9 am, depending on the length you chose, so if you wait to pick up your packet until event day, come early!! On site registration/packet pick-up will open at 7:00 am on Saturday, May 6th.  If you register on site you must bring cash or a check. We cannot take credit cards at that time.
IMPORTANT OTHER INFORMATION:
   The Tree House Tour de Cookie starts and ends at Johns Hopkins Montgomery County Campus at 9601 Medical Center Drive, Rockville, MD 20850
   Here's what the event area looks like if you are bird: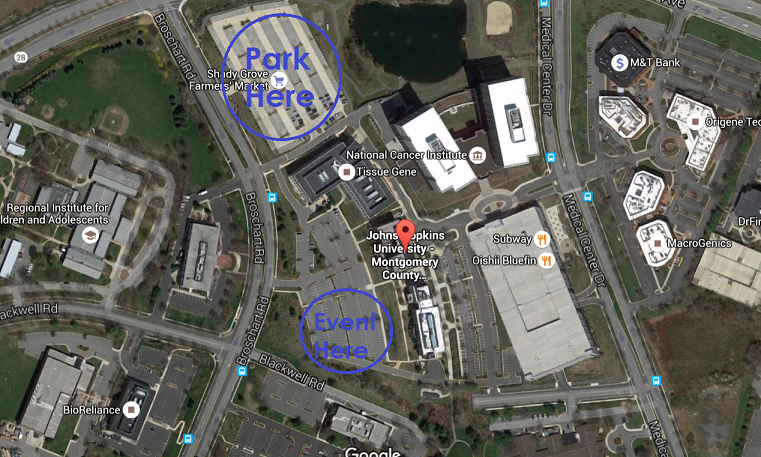 In order to keep the crowds manageable for the cookie stands and safe for the riders, we will be using a staggered start (groups of 50 based on bib numbers), beginning with the long route (43 mile) riders.  Groups of riders will leave every 5 minutes until everyone is on their way:
Long route 

(43 mile) 

riders will start leaving at 8:00 am

Medium route 

(27 mile)

 

riders will start leaving at 8:30 am

Short route 

(12 mile)

 

riders will start leaving at 9:00 am
   We want to keep families and teams together as much as possible!  We are counting on you to help us keep the start of the ride orderly, safe, and fun!  
   We will include copies of our cue sheets and safety tips these in all riders' packets. They will also be on our website, at the bottom of this page.
   If you will be wearing cycling shoes  for your ride, please bring a second pair of shoes with you.  Johns Hopkins has opened up their buildings so our riders may use their restrooms.  In return, they have asked that you not wear cycling shoes inside of the buildings. This is for your safety and the protection of their floors. We also ask that you use care if you use bathrooms at our cookie stand locations. Again, the owners of these locations are being kind to us. We'll be kind back!
   If you have very small children or not so small children, bring their bikes/trikes to the event.  From 9:45 am - 2 pm we will be having a bike rodeo in the kids' area. It is a great opportunity for your children to perfect their riding skills, and it is free. We will also have a variety of other entertainment in the kids area. So, plan to stay a while and enjoy!
   Don't forget to bring cash with you!  Although the cookies at the stands are free, you may want to buy lunch at our expo or purchase goods from some of our vendors.  Many of them cannot take charges.
   If you have family and friends who want to join in the festivities but don't ride bikes, they should join us for our 0K Stroll at 10:30 am. For more information, click here.
   To keep up to date on the latest Tree House Tour de Cookie news, go to our Facebook event page and say you are "Going." Invite your friends too!  
   Remember that ALL riders must wear helmets!
   We do not require that our riders do any fundraising, but if you are so inclined, the funds you raise will help us provide services to abused and neglected children in Montgomery County. Click here and scroll down the page to see what your money buys for The Tree House. Click here to set up a social fundraising page (Thank you!).

   You can find a Tree House Tour de Cookie event schedule here.
    Please feel free to contact us at tourdecookie@treehousemd.org if you have any questions/concerns.  We are happy to help you!
    We look forward to seeing you on May 6th. Get ready for a fabulously delicious day!